Rowland Storms to victory!
September 30, 2002
By Andre Courtemanche at ringside
Photo: Bonnie Margos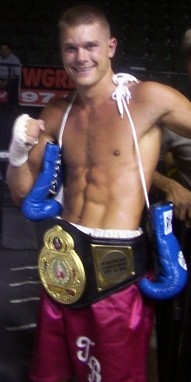 "Operation Rowland Storm" turned out to be a successful mission last night, as Troy Rowland won the Midwest Boxing Federation Middleweight championship with an exciting TKO5 over hard punching Earl Jackson in front of a delirious and highly vocal hometown crowd of over 2000 at the Deltaplex in Grand Rapids, Michigan.

Rowland, now 10-1 (3), was down in round one from a flurry of Jackson punches, but got up and boxed the rest of the way with speed and accuracy while wearing down his heavily muscled opponent. A flying towel in round five, with Rowland
landing at will in the corner, brought the ecstatic crowd to their feet for a deafening ovation.

With this, his second appearance on Gerald Evans' and 1World Productions series of shows at the Deltaplex, it becomes obvious that Grand Rapids has Troy Rowland fever. Fans, many adorned in "Team Rowland" T-shirts, came out to root for
their hero and according to the fighter, they came in very handy. "I had to get up for the all the people that came to see me," said the winner in his dressing room. "We sold over four-hundred tickets ourselves for this show, and I knew I couldn't let
them down."

The undercard was an occasion to bring out a mix of crowd-pleasers and some of the finest of the future crop of stars coming out of the Grand Rapids area, none of which shone more brightly than lightweight Harold Cutts.

Cutts looked like the next big little man to come out of Western Michigan tonight with an exciting four-round decision over Detroit's Kenneth Walton, 1-0 (1). About halfway through the first round, Cutts unleashed a lightning-quick flurry that left
Walton on his back and essentially out of the fight. He was down again in round two and badly hurt in round three, before staging a seriously valiant mini-rally in round four. If Cutts stays dedicated and out of trouble, you will be hearing about him.

36-year-old "Hurricane" Steve Daher, 4-2 (4), of Lansing, Michigan, a favorite for his all-action style, used his heavyweight size and power to wear down and pound a third-round surrender out of Detroit's Joseph Hill, 0-1. Daher's combinations took
the fight out of Hill, who was trading on even terms before gassing out. "I just love to fight," explained the elated winner when questioned about his choice of hobby at his fairly advanced age.

Reggie "2-Gun" Nash, now 2-0, of Grand Rapids, MI, was too fast and skilled for an improving, but still a little green, Charles Hinkle, 1-5. The hometown fighter's sharp punching overcame the raw desire of his opponent.

In a stirring battle that brought the crowd to its feet, Rocky Smith, 1-1 (1), of Muskegon, Michigan, outlasted a determined Sonny Baker, 0-3, of Traverse City. The two light heavies traded clubbing shots non-stop for three furious rounds until the
eye of Baker was too severely swollen for him to continue; TKO3. In his last fight, Smith gave promising Dallas Vargas all he could take before losing a close decision.

Traverse City's Chris Grays, 1-2 (1), got his first victory with a TKO3 over crude but tough Dave Diener, 2-8-1 (2), of Flint, and in a battle of Flint natives, Jackie Beard evened up at 2-2 with an "exciting-while-it-lasted" 22 second knockout over
Robert Holiday (0-1).
| | |
| --- | --- |
| | Damien Fuller was in attendance at the Deltaplex. He is scheduled to return to the ring next week, October 5, against tough veteran Juan Polo-Perez on the Showtime undercard at Cobo in Detroit. |
| | Hoopie, the mascot for the Grand Rapids Hoops knocked out Buddy the Bull, mascot for Brann's Steakhouse & Grille in a hilarious exhibition bout. |
| | Seeing thousands of delirious fans packed in an arena, cheering feverishly for their hero, coincidentally a white middleweight, you have to be reminded of the Duvas and their roots at Ice World with Bobby Czyz. |
| | 1World Productions have a signed deal for a series of fights and if they continue to improve and gain popularity, they will be THE hot ticket in this corner of the state. |