Dynamic duels provide thrills in Detroit!
01-27-2002

Andre Courtemanche
www.fightnews.com
Gerald Evans and 1World Productions continued their successful ways tonight by kicking off their "Dynamic Duels" featherweight tournament, however in the main event, the broken wrist of Waterford, MI's Pete Cantu spoiled what was heating up to be a sensational fight. Cantu, now 4-3 (3), and opponent Robert Hayes, 4-2 (2), sent the crowd into hysterics as they traded dirty tactics and heavy bombs for two fantastic rounds. To the disappointment of everyone, at the start of the third, Cantu stayed on his stool and made St. Louis' Hayes the winner by TKO.
This wild and wooly fight featured extended "hockey fight" salvos by Cantu where he would hold Hayes' head down with one glove and beat him silly with the other. In return, Hayes picked Cantu off the ground and threatened to slam him like a wrestler. Both featherweights had their moments, but it wasn't difficult to see the fight ending injury coming. Cantu was swinging wildly and putting his entire body behind his power shots and they were impacting quite visibly on the granite forehead of the super tough Hayes; something had to give and it was the wrist of the popular Michigander.
Promoter Gerald Evans said that as soon as Cantu heals, a rematch will be discussed.
Before the start of the main event, a ten-count tribute was given to fallen heavyweight Rickey Womack, who died a week earlier. His widow, Angela, made the trek to Club International to see her husband honored. "This might be the only thing done for Rickey, so I had to be here," she said while wiping away her tears.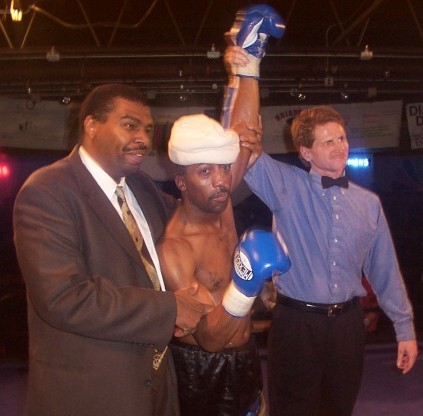 In the first of Gerald Evans' "Dynamic Featherweight Duals," Dan Bostic, St Louis, MO came into his showdown with Ypsilanti's Chico Crout as a late substitute. When it was over, half the fans were sure he was crazy; the other half thought he could hear music no one else could hear. They all were sure he won and they were right. Bostic shucked, jived and did the funky chicken on his way to a unanimous decision win over the local favorite Crout. With each passing round, Crout's mouthpiece hung out a little further with fatigue, while Bostic's confidence grew. Bostic was turning his head to answer questions from his corner. He was feigning being hurt ala Muhammad Ali. He was doing a cute little two-step move that isn't easy. He's quite a dancer. Crout, now 10-5 (6), should probably hang em' up. Bostic, 8-6 (3), will hopefully be back to Motown for another performance.
Lightweight Don Talley, 6-1 (4), of Detroit made quick work of Tennessee's Chris Buford by stopping him in the first round. It was all Talley until Buford's corner rescued their man with the towel, he was down once. Talley is another in a long list of Motown prospects that are approaching the time to begin stepping up the comp. He looked very good and ready to do so tonight.
"All" Toby Taylor, 1-2, of Chicago, IL came to fight tonight against popular Ken Clark, 5-2 (2), of Taylor, MI. Clark is the first of a growing number of members of the wonder twin stable trained by Keith Lee and Chad Wigle. His educated style allowed him to overcome the gameness of Taylor. Final scores of 39-37 twice for Clark overcame a 38-38-draw vote. Clark is a formerly portly fellow, who is still outsized by most of his foes. The skills he is developing under the Wonder Twins carries him over all but the strongest opponents, but he still needs to drop the last twenty pounds of his old life. The kid can fight. Toby Taylor is very tough and was disappointed with the decision.
In a very entertaining female scrap, Michelle Gilbert's professional debut was spoiled by the busy hands of "Awesome" Angela Simpson 1-0 (1). Gilbert, of Flint, MI almost made a quick exit, going down in round one, but hung on to make the distance and even land some of her own bombs. Simpson, Detroit, MI has an active, heavy handed style and seemed to bring along plenty of enthusiastic fans. The final scores were unanimous 40-35. "I felt confident going in to the fight, but Michelle was using her weight a lot," said the cordial Simpson "The hunger I had within was what gave me the victory." Simpson says that her super middleweight division gives her the chance to throw down with some of the most famous of women fighters, Ms. Ali, Ms. Frazier, and Ms. Foreman. "I respect them and I don't take anything away from them but they are in my weight class and I wouldn't turn down fighting them just because of who they are."
Detroit heavyweight Julius "Towering Inferno" Long scared the crap out of everyone with a clubbing KO1 over Karriem Respress. Long, 6-1 (6) was making his return to the ring after suffering his first loss to Leo Nolan at the "David vs. Goliath" 1World event. Long looks to have gained some musculature to his massive 7'2 frame. Respress ought to put his boxing shoes away for life after tonight. He offered very little resistance and when eventually kayoed, he laid on the canvas for several intense minutes. Message to Julius Long's people: the kid could be a good fighter, put him in with some warm bodies.
In the opening fight of the night, featherweight Fred Hawkins, 1-1 (1), of Detroit pulled his record to even with an impressive, one-punch bodyshot knockout of Illinois' Marc Kliora, 0-2. Hawkins and Kliora were engaged in an entertaining scrap with lots of hard shots either way when a hard left to the pit of the stomach had Kliora gasping for air on the canvas. Eleven seconds later, he might have been able to continue.
Questions? Comments? Email Courtemanche@fightnews.com