Williams' Cannon Blasts Jackson!
March 30, 2002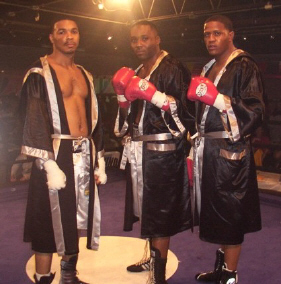 By Andre Courtemanche at ringside
photos by Bonnie Margos
There aint no party like a Detroit party, especially when Gerald Evans and Teamcannon get together for a night of Motown Boxing. "Possess them not with Fear" featured two regional title fights and a steamy, packed house full of rabid fans.
In the main event, Teamcannon's Rubin "Mr. Hollywood" Williams, 6-0 (6), won his first professional title by smashing Detroit's Warren Jackson into oblivion in three rounds for the Michigan State Boxing Federation Super Middleweight belt.
Jackson, 8-2, was in the fight until the awesome power of Williams took over in sudden and dramatic fashion. With his foe trying desperately to close the distance, "Mr. Hollywood" unleashed a series of hooks to the body and head, culminating in one smashing shot to the jaw that left Jackson out cold for several frightening minutes.
"It felt great to win my first belt. There's a lot more to come after this, but it felt good," said Williams, who put a blossoming music career as a rapper on hold to make a run for glory in boxing.
The young Detroiter says that facing a more skilled opponent than some of his previous adversaries was good for him. "Fighting a guy who could stand up and fight was good because I could work on setting up my shots and moving him into them. I get even more powerful against a guy who can fight back. That just makes me stronger."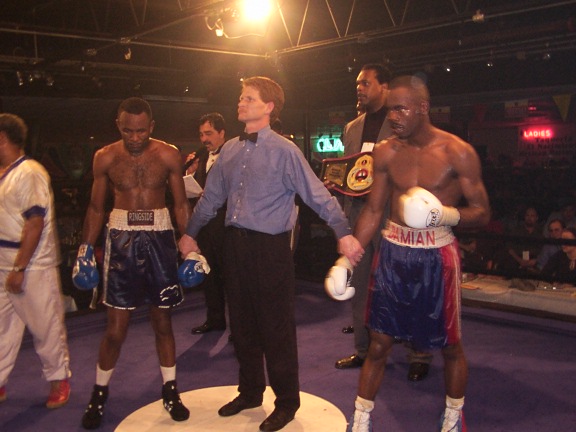 In the other regional title fight, Detroit's Damian "Damo" Fuller, 17-2 (9), cruised to an impressive unanimous decision over Colombian Roberto Ortega, 14-6-2 to win the MWBF championship.
Ever since losing on ESPN2 to Juan Valenzuela, Fuller has changed his style to suit his angrier ring demeanor. At one time a cutie with a finesse game, Fuller now fights like he is on a mission to destroy. Hard, slashing hooks and thumping right hands landed repeatedly to the head of Ortega, who to his own credit, kept coming for the entire ten rounds.
Fuller dropped Ortega twice in the fourth and nearly stopped him, but the South American tough guy survived the duration and even landed enough hard punches to make the fight interesting throughout. The final scores were 98-90, 98-91 and 95-93 all deservedly for Fuller.
"It felt good to go ten rounds with such a durable guy and pick him apart with my speed and skill," said Fuller afterward. "I'm in such great shape from working with Angel Manfredy for three weeks and then going to the Butzel Rec Center (in Detroit) to work there. I feel that my skills really stood out tonight."
The other two-teamcannon prospects, heavyweights Leo Nolan, 12-0 (4) and Rydell Booker, 5-0 (4), took very different paths to remaining undefeated. While Booker made quick and easy work out of Anthony "Rolling Thunder" Prince by stopping him in forty-nine seconds of the first, Nolan was forced to go the entire six tough rounds with Terry Porter of Elaine, Arkansas.
As usual with Nolan, his power wasn't enough to force a stoppage victory, so he settled for outworking and outclassing his game, but limited opponent.
After the fight, Nolan was upset with himself and his performance, but still optimistic about the future. The 30-year-old, unbeaten heavyweight says he will soon be looking for a televised debut on an ESPN2 level fight against another young prospect. "I'm ready to step up now," said Nolan, who already owns a victory over 7'2 and formerly undefeated Julius "Towering Inferno" Long.
JC Boxing Management fighter and former top contender Marlon "Trouble Man" Thomas, 27-5-1 (15), returned to the winner's circle with a very impressive stoppage of journeyman Sam Harvey, 12-10 (6).
Thomas has speed to burn and when Harvey attempted to trade, the fight was over as quickly as it began. The Detroit native landed several perfectly placed punches to the head that sent Harvey face-first into the canvas. Thomas went a long way toward shaking off the ring rust that plagued his first comeback fight (a decision loss to Manning Galloway).
In the opening fights, Detroit's Tommy "Two Guns" Robinson, 4-1-1 (2), continued his winning ways by outclassing and decisioning a game, but overmatched Paul Reyes, while Jamar Nolan (brother of Leo) made his pro debut a quick one by dispatching Darryl Brown in the first minute of the first round.
--Next for Detroit is an April 19'th return to the Palace of Auburn Hills for Bill Kozerski's Fight Night Inc. Last time at the Palace, Kozerski and Co. drew 10,000 people to watch Rasheed Lee vs. Ka-Dy King. This time Lee returns in the main event to tackle old school warrior Etienne Whitaker in an exciting rematch.
--It was a joy to see Thomas Hearns at tonight's show, but who was the man with him that wasn't allowing pictures or autographs? The money you are being paid came from loyal fans of boxing that shelled out their hard earned cash to watch your boss fight. Be nice Mr. Bodyguard guy.
--Every fight referee Dan Schmidt worked tonight went the distance. Every fight referee Marv McDonald did was a quick knockout. Wonder if Schmidt was asking to be paid by the round instead of by the fight.
--New Michigan Athletic Board of Control Chairman Dr. Michael Sherbin introduced himself to Fightnews and stated he is an avid reader. Sherbin will be giving an interview soon to discuss his plans for professional boxing in Michigan.
--Referee Frank Garza always does an admirable job of ring announcing at 1World Productions shows, but his immense and diverse talents are quickly being overshadowed by the striking beauty of his lovely daughter Drayonah, who has worked the last three or four Evans shows as roundcard girl.
--Promoter Gerald Evans' birthday was today and to show their appreciation, the sold out fans in attendance sang Happy Birthday, as he was presented with balloons and gifts in the ring.