Julius "Towering Inferno" Long
An excerpt from a story by
Andre Courtemanche
www.fightnews.com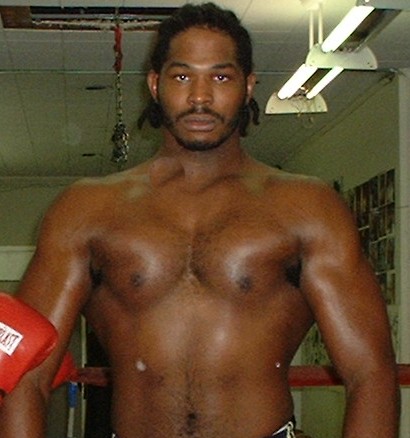 Julius Long's opponent had a different reason for not fighting. One look at Julius sapped his desire for battle. The un-named opponent thought twice about boxing with a 7'2 giant.

Long says that his mind-changing opponent was undefeated in five or six fights. "My trainers want to step up my competition, because I'm ready for it," he said. "I fight better against more advanced people anyway."

If ever a man his size was pre-destined for athletic excellence, it is Long, whose brother, uncle and cousin all play or played in the NBA. Brother Grant is with the Vancouver Grizzlies, while cousin Terry Mills is with the Indiana Pacers. Uncle John Long is now retired and commentating for the Detroit Pistons.

The 23-year-old giant says that being raised in an athletic family had its down side. "With five brothers, and they're all big, at a young age they would steal my juice and I would have to fight. I ended up growing the biggest out of all of them. They thought I would be the smallest but I'm 7'2 and they're all 6'5 and 6'4."

Long doesn't seem to mind the pressure of being one of the most talked about young fighters in the city. He says he is handling membership in the "Big Three" fairly well and even expressed surprise that anyone would find a 7'2 heavyweight immediately interesting. "I'm reacting to the pressure well, but I'm finding that I'm blowing up very, very quickly. I didn't think the publicity was going to come around this fast. I didn't think a lot of people would notice me," he said with a straight face.

Bob "Youngblood" Evans, himself a former Motown boxing favorite says that Long has an advantage over other young heavyweights. "He's in the gym 6 days a week, 5 or 6 hours a day," he said. Long said he runs five miles a day and then goes to Phil Awada's Dearborn Sports for daily training sessions with his team of trainers, each of whom focuses on a different aspect of his fighting technique. Long does have one rule when it comes to training, "The only day I take off is Sunday," he said. "I have to take a day off for the Lord and that's the only day I'll take off."

Julius "Towering Inferno" Long is scheduled to appear on this Friday, if his opponent doesn't get a look at him.